COKIN P FILTER SYSTEM Filters and Cokin P Holders
Cokin Z Pro 4x4 Holders and Cokin Z Pro 4x4, 4x5 ND Graduated Filters


Free Shipping on Cokin Filter Orders over $22 to all USA Zip Codes
call us 1-800-882-2832 hours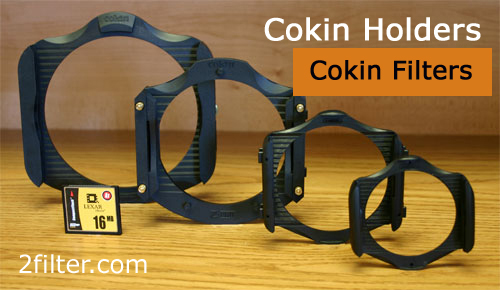 The 4 sizes of Cokin Camera Filter Holders, made in France
2filter does not sell the Cokin A series " the smallest" Formatt Hitech has a new 67mm system much better made
for compact digital cameras nor Cokin X Pro series the "largest".
The Cokin X series stock has been very limited and extremely long delivery delays, long before the "new ownership" in 2011.
We are still not sure of future availability of X series 2filter does not recommend you invest in the Cokin X filter series.

For extreme wide angle lenses consider Lee filters SW150 holder
or Formatt Hitech 165 Lucroit holders both are very good solutions to the ultra wide lenses

The picture above of the 4 Cokin holders was taken at the dawn of digital by 2filter
The compact flash card in the picture was only a 16 MB card ( Megs not Gigs)
Today in 2013 the flash card would with most DSLR cameras
not hold even one picture, we have come a long way since the beginning
Our Favorite Cokin Filter Systems
:

Cokin Z Pro Filters
| Cokin P Filter series

Cokin P 84/85mm and Cokin Z Pro 100mm systems are global standards in filter sizes

Cokin Filter Products are back in stock here in the USA.
The Cokin Camera Filters Series of products has a size for any digital or cinema camera.
The Cokin Z Pro 4x4 100mm is specially designed for the most ultra wide zooms
on HD Digital SLR cameras in the 16mm to 19mm full frame range
or 10mm, 12mm zooms in the APS smaller chip cameras.
The Cokin Z Pro 100mm system works well on HD Cinema cameras.

Cokin P and Cokin Z Pro filter systems comprise of a complete range of Cokin camera filters and effects. The Cokin Series multi filter holders and Cokin metal adapter rings offer lens mounting diameters from 48 mm to 95 mm. The Cokin creative filter systems Like the Lee Filters systems and Formatt Hitech holder systems allow you the freedom to purchase a new lens or camera and not have to purchase all new camera filters.

The Cokin P size holders and Cokin P camera filters
are a standard size in the world 84/85mm. Cokin P series product list
This system works on most DSLR standard zooms
and always works with the lenses that the DSLR cameras
are sold with the "kit lenses"

Like us on Facebook "2filter.com-camera filters" or follow us on Twitter/2filter
for the latest updates on delivery of Cokin products in the USA



The web site Cokin.com in France has been gone for over 3 years.
a new one has been posted in 2012 but few of the links work.
a new Cokin site is now working in 2013.
2filter is amazed that in the age of the internet a new working website
took until the Spring of 2013.