In most cases, the adapter stepping ring will pay for itself
with the first camera filter you do not have to buy

*Important Info on Circular Polarizers: For years 2filter has suggested to purchase step up rings to avoid buying double the number of expensive filters. This made sense especially with the original much thicker old style circular polarizers. Now that all the filter makers have made the mounting rings as tiny as possible and they are getting even thinner. The mounting rings are so slim, if you get a step up ring stuck on your CP filter you may not get the two apart. 2filter's new advice in 2012 especially on thin circular polarizers is to purchase a separate one for each different mm size lens mount you want to use a cpl on. We ourselves now have a B+W 72 to 77 step up stuck on a slim 77 circular and just can't them apart. Not the first time it has happened to us, maybe a tiny speck of sand got in the filter threads and now is acting like a break. Freezing the stuck filters sometimes help but not this time, neither did the filter wrenches.
All filter adapter rings below are listed
the camera lens (mm) first
then the camera filter or attachment (mm) size
to be mounted on to the camera lens second
Tiffen adapter rings made in the USA
Camera/Lens mm (female thread) | To: (male thread) mm filter or lens attachment
STEP-UP Adapter RINGS
24mm to 39mm | 40.5mm to 49mm | 52mm to 100mm
STEP-DOWN Adapter RINGS
43mm to 58mm | 60mm to 95mm
Digital Camera Accessory Tubes
All our rings are metal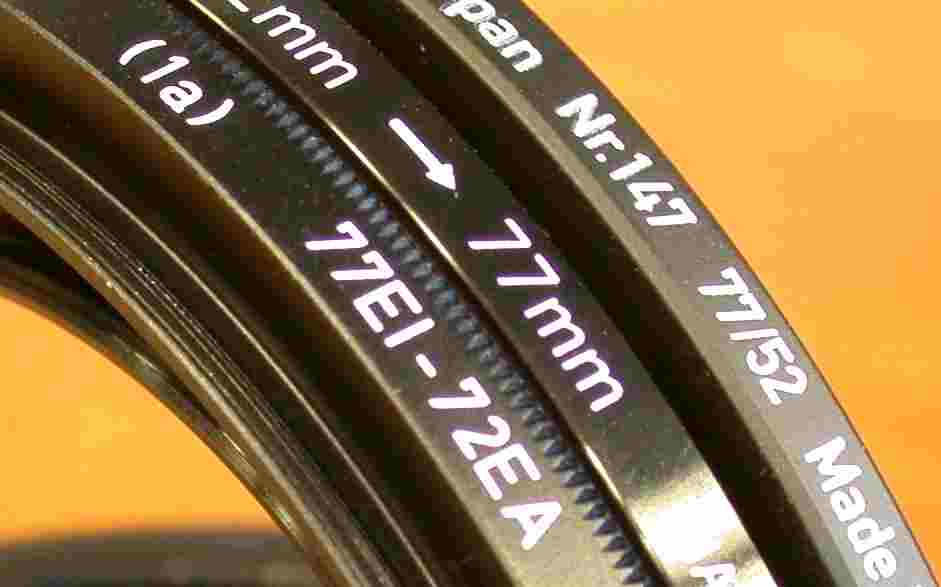 All brand of rings work well together
If you are going to use the step ring often,
consider one of the heavier rings from Tiffen or B+W
B+W German rings are the best machined ones in the group,
plus the B+W's have a ribbed edge to help in removal
If the ring height is important the "metal"
and the Quality metal have the lowest profile
Remember, when trying to step up on extra wide lenses,
the ring height will possibly add to a vignetting issue
When considering stepping rings never use plastic rings
with metal lens mounts, you will not get the rings off that easily,
Always try to use metal with metal, All our rings are metal.
some Quality metal rings are made in Japan and China, B+W are made in Germany, Tiffen are made in the USA