www.2filter.com
In Sales Tax Free Gilsum, New Hampshire



Camera Filter Offers from 2filter
Price Comparisons of Protective Camera Filters
and Circular Polarizers
Specials on Tiffen HT ND 0.6 Glass Gradual
Camera Filters All on Sale at 2filter.com
Clear Protective NC Camera Filters MC coated
and Multicoated Circular Polarizers the must haves for digital cameras



FREE SHIPPING on orders over $22 to any USA Zip


The 2 Must have Camera Filters a Clear Protective Filter and a Circular Polarizer
2filter feels that the glass used should absorbed any accident that happens to your filter
No type of camera or lens should be without the protective value of a clear/uv camera filter. This camera filter will protect you from damaging the front element of the camera's lens. In all the years that we have been selling filters, we have never seen a front lens element that could be replaced cost effectively after the lens element is damaged.
This protective camera filter should be the best quality that you can afford.
The Multi-Coated camera filter products will give you the best results.
Camera filters without any optical coating may reduce the image contrast,
or sharpness due to unwanted lens flare.
Filter Coatings and Camera Filter Glass quality does effect image quality; if it didn't, the camera and lens manufacturers would make their lenses out of the lower priced glass material and not multi coat the optics. But they don't because it does matter.
Clear protective or UV camera filters available, this is a good time to start off with or upgrade to the Multi-Coated quality your fine camera equipment deserves. The Genuine Marumi EXUS and Super DHG filters, Tiffen Digital HT Ultra's, B+W XS Pro Nano camera filters and Genuine B+W MRC F-Pro Filters are all excellent choices
All of our filters are first class goods and all are guaranteed to be perfect by us,
the Authorized USA Importers and the filter manufacturers.
Use our secure shopping cart to order or call us at
1-800-882-2832 a real person answers, no phone menu hours
Tiffen UV 86 Digital HT Filter, Digital Ultra Water White from Tiffen USA
Marumi Super DHG Protective Clear 99.5% transmission of the light, perfect hard coating
Marumi EXUS and Super DHG Protective filters
B+W Mrc F-Pro and XS Pro multicoated and double coated filters from Germany
Tiffen HT Digital Camera 2 Filter Kit, Tiffen HT Clear & Tiffen HT Circular Polarizer
all perfect for all DSLR cameras Pro Digital UV filters
All Multi-coated filters are excellent for any new high-meg Digicams still or HD video
None of our camera filter makers are offering any Digital Grade Multi coats in thick mounting rings

2filter.com never sells camera filters on other sites lower than here on our web site
Place any Camera Filter in our shop cart to check our everyday low discounted sale prices
New lower prices, Tiffen Digital HT Twin Pack,
includes a Digital HT Clear protector and Digital Circular Polarizer
The Tiffen HT Digital Twin Pack
Marumi Super DHG filters, Marumi DHG Clear Filters
Tiffen filters made with pride by American workers in the USA
B+W XS Pro Mrc Nano Uv 010 filters, super slim 49mm to 86mm filters

-*

Tiffen

B+W
Marumi

Marumi

Tiffen

Tiffen

Tiffen-

B+W

B+W

type
of filter
and
coatings
and
ring height
sizes
24 30
37 43 and
smaller

UVP
protective
clear
camera
filter
5mm
made
in
USA




B+W
dbl
threaded
UV 010
4mm
brass
F-Pro
SC coated
made
in
Germany


Digital
High
Grade
97.3%
3mm Clear
protective
multicoated
Dbl threaded
filter
made in
Japan

Super
DHG
99.5%
3mm clear
multicoated
Dbl
threaded
made in
Japan



EXUS

Digital HT
multicoated
Clear Camera filter
3 mm


Digital
HT UV 86
multicoated
Slim
3mm
dbl
threaded


MRC
multi coat
Uv 010
F Pro
4mm brass
mount
ALL
IN STOCK
mount
with
front
threads


MRC
multi coat
Uv 010
XS Pro MRC Nano 3.5 mm brass mount
ALL
IN STOCK
Brass
with
front
threads


46mm

5.81

25.22
ORDER
$13.96
ORDER

26.96

$41.96
ORDER

n/a

n/a

n/a

42.44
ORDER

n/a

49mm

5.81
ORDER

25.22
ORDER

$15.96
ORDER

26.96

$41.96
ORDER

n/a

n/a

n/a

36.66
ORDER

46.86
ORDER

52mm

5.81
ORDER

19.11
ORDER

$16.96
ORDER

$27.96

$45.96 ORDER

34.91
ORDER

38.91
ORDER

94.44
ORDER

36.66
ORDER

46.86
ORDER

55mm

5.81
ORDER

22.12
ORDER

$16.96
ORDER

$29.96

$47.96
ORDER

31.93
ORDER

34.93
ORDER


97.74
ORDER-

36.66
ORDER

51.66
ORDER

58mm

7.22
ORDER

24.36
ORDER

$17.96
ORDER

$30.96

$49.96
ORDER

34.41
ORDER

47.91
ORDER

107.07
ORDER

36.81
ORDER

58.51
ORDER

62mm

8.44
ORDER

29.11
ORDER

$

20.96


ORDER

$35.96


$55.96
ORDER

40.93
ORDER

50.93
ORDER

142.22
ORDER

48.11
ORDER

66.92
ORDER

67mm

8.44
ORDER

35.15
ORDER

$22.96
ORDER

$38.96

$62.96
ORDER

39.84
ORDER

56.91
ORDER

129.91
ORDER

50.40
ORDER

73.33
ORDER

72mm

14.81
ORDER

44.64
ORDER

$24.96
ORDER

$39.96

$66.96
ORDER

46.66
ORDER

64.91
ORDER

134.44
ORDER

64.44
ORDER

86.81
ORDER

77mm

14.81
ORDER

48.22
ORDER

$27.96
ORDER

$43.96

$75.96
ORDER

49.11
ORDER


74.91
ORDER


174.44
ORDER

81.54
ORDER

place in cart for price
ORDER

82mm

18.88
ORDER

71.41
ORDER

$32.96
ORDER

$55.96

$89.96
ORDER

56.66
ORDER

89.91
ORDER

227.71
ORDER

102.41
ORDER

126.44
ORDER


86mm

-

86.32


89.96

99.96

n/a

n/a

n/a

n/a

-

147.70
ORDER

95MM

-



115.22
ORDER

115.96

126.96

n/a

n/a




n/a

n/a

-

n/a

size

Tiffen UV
Protector
made in USA

B+W
Anti Reflective
Coated

Marumi
Digital
High
Grade
97.3%
3mm Clears

Marumi
.05% Reflection
Super DHG's
99.5%
transmission

Marumi
EXUS


Tiffen
Digital HT
multicoated
Clear Camera filter
3 mm

TIFFEN
HT 86
UV
MultiCoated


Tiffen HT
multi coated
CPL Kit with Ultra HT clear

B+W F-Pro
MRC 010
UV
Multi Coat
4mm

B+W 3.5 mm
XS Pro
MRC
multi coat
Uv 010
3.5 mm
Place any Camera Filter in our shop cart to see our everyday
low sales tax free discounted price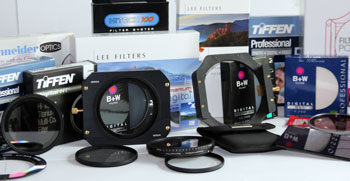 We suggest, you consider Genuine Marumi Super DHG's from Japan, Tiffen HT Digital camera filters, Genuine B+W XS-Pro Nano or B+W MrC B+W filters for your filter requirements in UV's or Clears . It is very important to remember, this camera filter is going to protect your front lens element, and be on front of your camera lens most of the time!, so make it the best. Not sure which brand B+W, Tiffen HT or Marumi? Some things to consider, The Genuine B+W's and XS Pro Nano's are excellent filters, German made B+W's camera filters will never interfere with the quality of your any images ever. Genuine Digital Tiffen HT and Marumi Super DHG camera filters are excellent filters also, and worthy of consideration for high end lenses.
If you have had trouble with cleaning Multicoated Filters, click here,

2filter.com only offers the Genuine brass mounted B+W XS Pro and F-Pro Camera Filters, In some world markets the B+W F-Pro's are being sold in aluminum alloy mounts, the boxes and camera filters look the same in a picture. When you feel the quality of the Genuine brass German made filter mount you know have the right one. The MrC Nano multi coat from B+W, transmits 99.5% of the light The B+W MrC and Genuine B+W XS Pro Nano coatings are as good as they can be. Somewhere in the world they call this quality of coatings "ghost less" we agree. With Tiffen HT Digital filters, Genuine Marumi Super DHG MC or Genuine B+W MrC Nano coatings, the camera lens may contribute more to the problem of flair, than the Marumi Super DHG MC or B+W MrC Nano filters. When you look at a Genuine B+W MrC Nano UV's, at certain angles you can not see the filter glass nor the Mrc Nano coatings
For more information on the differences of the various filter brand's click here,
Place any Camera Filter in our shop cart to see our attractive price
Side view of the circular polarizer rings on 2filter's best sellers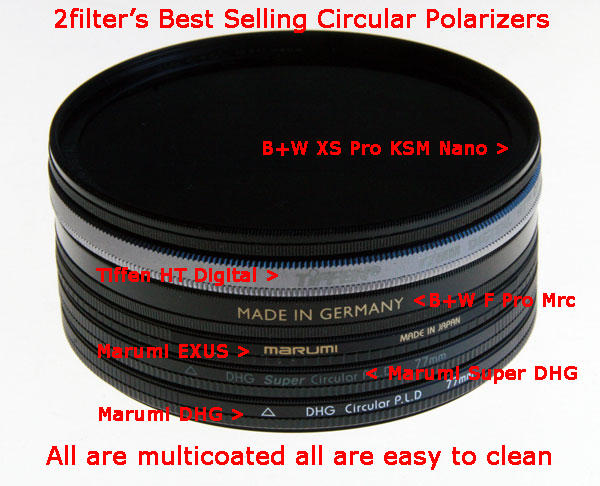 Circular Polarizer Products from the top down...
B+W XS Pro Nano KSM Circular Polarizer
Tiffen HT Digital Circular Polarizer
B+W F Pro MrC Circular Polarizer same mount as MrC Kaesemann version
Marumi EXUS Circular Polarizer
Marumi Super DHG Circular Polarizer
Marumi Digital High Grade Circular Polarizer


Multi-Coated Circular Polarizers and Slim Circular Polarizers


Multi-Coated Circular Polarizers make a improved difference in contrast and sharpness.
Today's Circular polarizer foils are much more neutral, lighter and
the mounts slimmer than cpl's made several years ago
Tiffen HT 77 Digital Circular Polarizers made in USA.
B+W XS Pro MrC Nano Kaesemann Circular Polarizers 5mm with front threads,
Marumi EXUS Circular Polarizer filters, made in Japan with Schott Ultra Clear Glass from Germany
Place any Marumi, B+W Mrc filter or Tiffen HT Filter in our shop cart to check for our attractive prices
All online prices are the same for our local customers
who visit us in Gilsum, New Hampshire USA
Dogs and pets always welcomed at 2filter

When open at 2filter.com

Important note: We source our Camera Filters and Canon Inks from the Authorized USA Importers, or USA makers of Camera filters
this is especially to be noted with B+W camera filters 2filter only sells the brass mounted Genuine B+W German filters" from Schneider USA. The products we sell are fully guaranteed by the
www.2filter.com and B+W / Schneider Optics, USA. to be perfect. As we have offered for 25 years any filter not perfect 2filter will replace it at absolutely no cost to you.
Email or call us, tell us what is not right we really care and will make it right.

Very needed tools for today's slim style circular polarizers
Filter Wrench package of 2 wrenches for up to 58mm $3.93 ORDER
Filter Wrench package of 2 wrenches for up to 77mm $6.91 ORDER
1-800-882-2832 real camera filter people answer
Our New Hampshire local 603-352-0047
when open
www.2filter.com
In Sales Tax Free New Hampshire


Always place any camera filter in our shop cart to check our current low discounted and on sale prices



Home | Catalog | Tiffen HT filters |Marumi filters| Lee filters | B+W filters | Cokin filters | Canon Ink | Schneider filters | Contact |
Digital camera cleaning tools | Hitech 85P ND Gradual Kit $41.84 | Lee 4x6 camera filters | View


©2011-2013 2filter.com updated November 19, 2013